Contact us if you need to schedule service for a windshield or other auto glass repair or replacement. Our friendly staff is available from Mon-Sat.
Custom Frameless Showers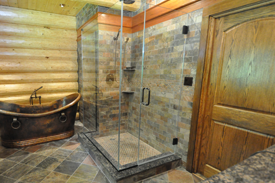 The bathroom of your dreams for your Connecticut home can be a reality with the luxury and elegance of a custom glass shower from Plymouth Glass and Mirror. Our custom glass shower experts can help you choose from frameless shower doors and panels or create a customized shower enclosure to fit your budget and design. However, there is no added "custom" charge when it comes to frameless showers. Adding a custom bevel, arch, or other style to make your custom glass shower unique is a specialty offered by Plymouth Glass & Mirror. From single entry shower doors to multi-panel shower enclosures, we can create the design you've always dreamed of. Each custom glass shower is designed to your specifications and we can even provide you with a computer-designed image upon measurement. This allows you to see what your shower will look like prior to placing the order.
Custom Frameless Showers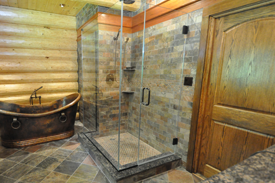 Custom Glass Showers Installed in 10 Days From Time of Your Order
By taking the time to measure and evaluate your space, and by using our in-house computer design to provide you with an image of what your custom glass shower will look like, we can ensure that you are getting the exact design you've always wanted. From the time of the order, we can have your custom glass shower installed in your home in 10 days!
Free in-home consultation
Quote provided within 24 hours of measure
10-day installation lead-time
Appointed design team specialist to work with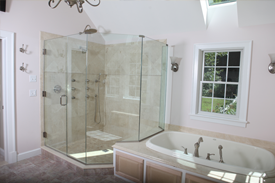 Hardware and Glass Choices: What's Your Style?
Trying to match the hardware in your bathroom to your custom glass shower? We carry a wide variety of hardware finishes, including polished and brushed chrome, brushed and satin nickel, oil-rubbed bronze in varying degrees, antique brass, and many more to match your bathroom. With our widespread  Portals Hardware line, we are able to design your custom glass shower to match your bathroom design. Whether you're looking to provide a contemporary look or keep that colonial style, our hardware is the best match. If you want to accent your beautiful tile with clear glass or add that special touch to your custom glass shower with patterned glass, Plymouth Glass & Mirror will propose suggestions that tailor to your designs.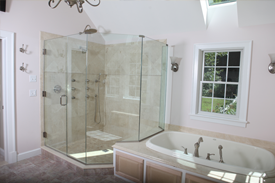 Say Goodbye to the Film on Your Glass Shower Doors Forever!
Do you spend extra time cleaning due to stains on your glass shower doors? Ask about our maintenance-free glass coating. Different from other products that are applied on the glass and can wash away, the permanent product is applied to the glass shower doors during manufacturing offering a scum-resistance to the glass that allows you to maintain the beauty of clear shower glass. Using a unique ion beam process, it stops corrosion before it starts. Similar to the benefits of a non-stick cooking pan, the coating deters hard water stains and calcium deposits from sticking to the glass to keep your frameless shower glass looking brand new for years to come. Although it is still necessary to clean your shower doors, your frameless shower glass becomes more scratch and impact resistant. Because the coating is not a product that is applied after manufacturing the glass, you are not limited to 1 or 2 products to use when cleaning your shower doors. Our product is compatible with a myriad of everyday cleaning solutions such as Lysol, Clorox, Windex and many more. With a lifetime warranty, we are confident that cleaning your glass shower doors will be less challenging.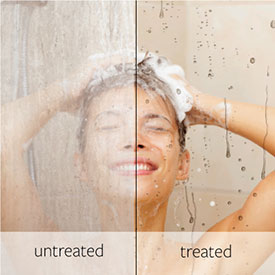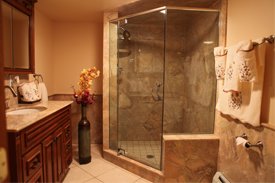 Are you tired of trying to clean the film off of your glass shower doors?
Recommended Maintenance for DFI Coatings on Shower Doors
Single Door or Spray Panel
A quick and affordable option is a single frameless door or a spray panel. With little hardware involved, your shower appearance is sleek and elegant, all while keeping your cost to a bare minimum. Very popular throughout Europe, there is an opening for entry into your shower but just enough glass to keep water from entering the floor. If you're looking for a quick remedy without a huge investment, consider a single frameless shower door or spray panel.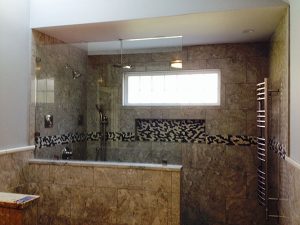 5 Things You Need to Know Before Doing a Glass Shower
Consider the design/layout of the bathroom before any construction begins-Toilet placement, closets, door swing operation, plumbing where shower heads and handles will be placed.

In order for your door to swing properly, you will want clearance from all other items in the bathroom to avoid an accidental collision. Your shower head and handle to turn the shower on are typically on the same side as your shower door is hinged in order to avoid getting soaked when turning the shower on. Nobody likes that burst of cold water when we first wake up!

Do I plan on doing tile walls or a fiberglass/plastic insert?

In order to properly adhere a frameless shower, you must be doing tile. In addition to that, adding Durarock, backerboard or 2 x4 under the tile will significantly help in order to consider all your frameless shower options.

Are you planning on having a sill/threshold to step over into the shower or will your shower be level with the floor outside?

A tile expert can explain the pros and cons of both, yet deciding ahead of time will predict your future options for your shower design.

How do I want to lay my shower out? Are you looking for a single door or a door and panel system? Neo-angle? Would you like a seat in your shower with glass behind it or tile? Do you want the door in the middle of two panels or off to a side?

Any option is possible with a custom frameless shower! However, the planning must be done ahead of time to tile and frame your shower enclosure out properly.

What kind of tile do you plan on using?

Stone, marble, and glass blocks are a few to mention. Yet, the placement of these specialty stones or tiles is very important before the process begins. Frameless shower hinges need to be drilled into the tile or marble of the wall. Glass tiles will often break upon drilling so discussing this with your contractor ahead of time will eliminate the need for additional costs and unnecessary changes.